About 12 or 13 hours ago I stopped receiving mail at my box.cmail.xyz machine. It handles a couple different domains (cmail.xyz and cliff1976.com). I host the VPS at digitalocean.com with MIAB v.047 working great for years. The registrar is Gandi and I have glue records properly set up there from what I can see. Also DNSSEC looks correct to me when I compare data in the Gandi glue records control panel to what my MIAB tells me.
| | box.cmail.xyz |
| --- | --- |
| | Nameserver glue records are incorrect. The ns1.box.cmail.xyz and ns2.box.cmail.xyz nameservers must be configured at your domain name registrar as having the IP address 46.101.237.35. They currently report addresses of [Not Set]/[Not Set]. It may take several hours for public DNS to update after a change. |
| | This domain must resolve to your box's IP address (46.101.237.35 / 2a03:b0c0:3:d0::fb:8001) in public DNS but it currently resolves to [Not Set] / [Not Set]. It may take several hours for public DNS to update after a change. This problem may result from other issues listed above. |
Glue record settings: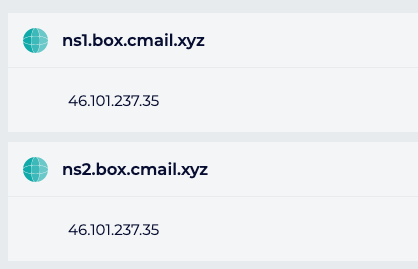 Nameserver settings: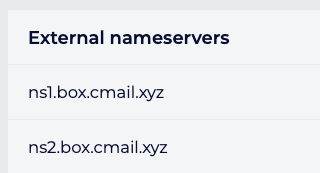 I can't get box.cmail.xyz to resolve to my Digital Ocean VPS's IP. I can only get into the control panel via the IP number.
Further complicating things: my Digital Ocean contact email address is set to an email on the cliff1976.com domain – which means I can't receive their email with a verification code to login and check stuff through the Digital Ocean management console.

That is a dumb mistake on my part.
I've rebooted the VPS several times (ssh'ing in through the IP number) and tried to run the upgrade/install mailinabox script. No errors during the (re-)installation. But so far, no luck. I can only reach box.cmail.xyz via its IP on SSH or the webserver miab admin pages. So I am sure I'm not receiving mail for any of the domains it hosts as long as box.cmail.xyz is not resolvable via its FQDN.
What else can I try to get box.cmail.xyz DNS working again so that I can get email working again?