Greetings,
First of all, thank you to all of the Mail-in-a-box developers for creating a tool that makes it easy to create a mail server with ease. I don't have much experience in setting up email servers so please go easy :).
So long story short, I can send out emails just fine from my box but I can't receive any emails from the outside world. I tried sending emails from GMAIL/HOTMAIL/YAHOO to my box but with no luck. My current setup is that Cloduflare handles my DNS and I have setup the MX records correctly in CF. Also, I have used mxtoolbox to confirm that the MX has been setup correctly and it shows all green there https://mxtoolbox.com/SuperTool.aspx?action=mx%3Alexmodo.com&run=toolpage so I guess the DNS has propagated correctly. Here's a screen capture for my admin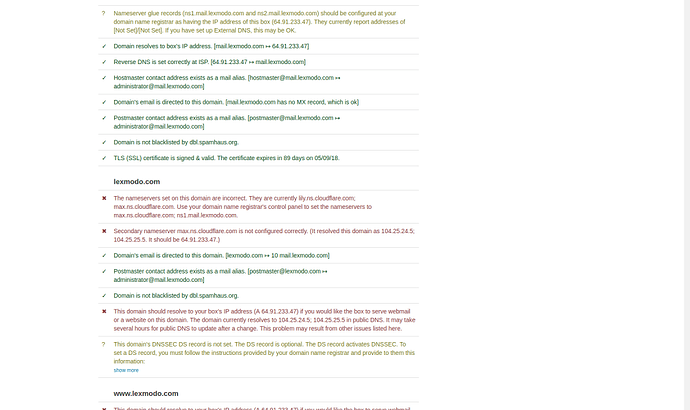 I have ran the test under /root/mailinabox/tests/test_mail.py and the test passed also I tried sending an email to my self through the box and it worked. However, I can't receive an email from the outside world or through any third party email service provider as I have mentioned above.