So I mostly have things working however this one edge case seems to be problematic for me.
@domain.tld is hosted with another provider. I setup mx.domain.tld with mail-in-a-box to provide mail service for several domains and outbound for domain.tld. All other domains are working A-OK.
The part that I can't get working is outbound for domain.tld. When I create a catch-all alias as such: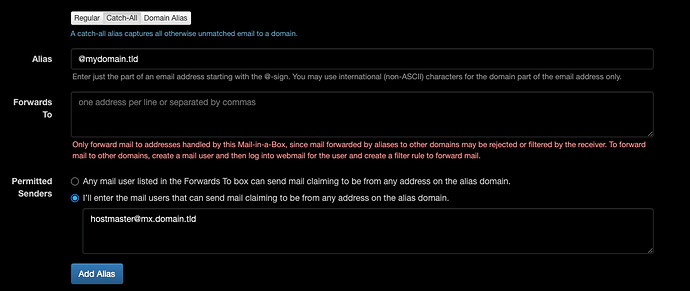 Attempts to send mail to anything@domain.tld from hostmaster@mx.mdomain.tld fail as User unknown in virtual mailbox table. Noticing this persists even after deleting the rule until I restart postfix, which may be a bug.
So my questions are:
How can I allow really anything

@mx.domain.tld

to send mail on behalf of

@domain.tld

?
Is this indeed a bug where deleting that rule requires restarting postfix? Or am I missing something else in the process/workflow entirely?
Thanks