Hello,
I would like to discuss about the MIAB status checks when using external DNS.
I'm using the DNS servers of my hostname provider to have the redundancy that MIAB cannot provide (because it's serving its own DNS server).
Using external DNS is allowed by MIAB, my box domain name is "box.numee.fr", but when I see the status check, I can only see errors: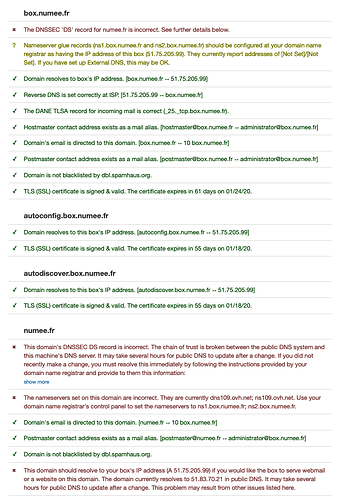 But these are not errors. Since I am using external DNS, I can use the DNSSEC option of my service provider if I want to.
If I'm using external DNS, it's not needed for my "numee.fr" domain to use the box DNS neither.
If I don't want to serve any website nor webmail with my "numee.fr" domain, I also don't need to redirect it to the box.
These are not critical issues at all and the MIAB will work as expected.
I suggest to only put these messages as "infos" et not as "errors".
What do you think?